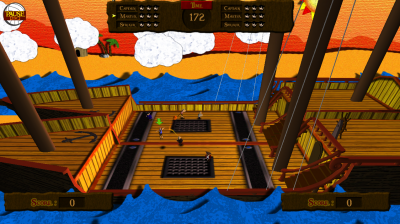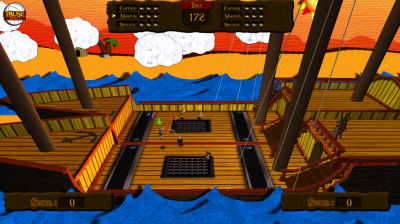 Arrrrr! Pirate Dodgeball is a 3D isometric sports game in which the player controls one of the 3 pirates on their ship to battle with pirate enemies from another ship with dodge ball. The player needs to control his pirates to throw dodge ball at the enemy to hurt and eventually defeat every one of the enemy pirates in order to win the game.
The player controls one of the crews on his side, and he throw the dodge ball towards enemies and hence hurt them. When attacking, he can do "run and shoot" or "jump and shoot" to throw and ball with faster speed and higher damage.
How to Play:
Default Player 1 Control:
WASD For Up, Down, Left, Right
F for Throw/Catch
G for Switch/Pass
H for jump
Default Player 2 Control:
Arrow keys for direction
I for Throw/Catch
O for Switch/Pass
P for jump
Key customization is supported.
Alex Hanlon: Programming
Liang Cui: Design, Team Lead
Joe Lindlebauer: Programming
Chris Ek: Programming:
Loralee Pearman: 2D Artist, 3D Artist
Anthony Castro: 3D Artist