Brain Powered Games Africa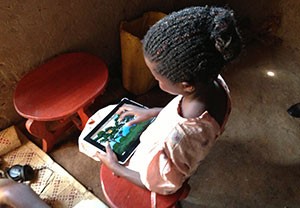 Brain Powered Games Africa is a growing collection of digital games developed in the Games for Entertainment and Learning (GEL) Lab at Michigan State University. Each game focuses on exercising one or more cognitive abilities, including attention, memory, language, visual/spatial functions, and executive functions.
Working with MSU neurologists and psychiatrists, a version of Brain Powered Games has been customized for the African context. After piloted and early version of the game as a Computerized cognitive rehabilitation therapy (CCRT) in Malawi with children with cerebral malaria, a new version of the cognitive games were built and tested in Uganda with HIV inflected children. The game was created for the iPad, Windows, and Mac.
The game has been shown to provide a valuable tool to address both Malaria and HIV-associated neurocognitive deficits in adolescences in sub-Saharan Africa. We are actively exploring additional funding avenues to continue this work.
Brain Powered Games Africa has been exhibited, presented about, and is the subject of scholarly research publications. This builds on previous work on Brain Powered Games (pre-Africa).
Peer Reviewed Exhibitions:
Winn, B., Novak., B., Boivin, M., Giordani, B. Brain Powered Games – Africa. Exhibited at the International Academic Conference on Meaningful Play, October 2014, East Lansing, MI.
Peer Reviewed Journal Articles:
Giordani, B., Novak, B., Sikorskii, A., Bangirana, P., Nakasujja, N., Winn, B., Boivin, M. (2015). Designing and evaluating Brain Powered Games for cognitive training and rehabilitation in at-risk African children. Global Mental Health, vol. 2, January, 2015.
Invited Academic Talks:
Boivin, M., Winn, B. Computers and Cognitive Function. July 21, 2014. Talk at the University of Cape Town. Cape Town, South Africa.
Brian Winn, Executive Producer
Carrie Cole, Art and Design
Bryan Novak, Programmer
Rick Meurs, Art
Matthew Vorce, Programmer
David Ward, Programmer