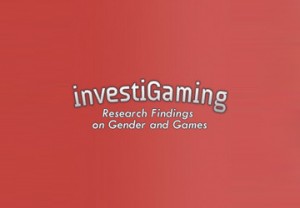 An on-line portal on gender and gaming for academic and industry professionals
Although video games are fairly commonplace to the current generation of students, the reality is that the video game industry is still in its infancy. While gaming has historically been a male dominated pass-time, game designers are beginning to put a great deal of focus on ways to attract more female gamers. While there has been a considerable amount of research done by the academic community on gender and gaming, due to its decentralized nature game industry professionals have not been able to easily access it. Designing games to appeal to female and male players may seem elusive, but gender and gaming has been and continues to be the focus of hundreds of research studies.
investiGaming.com was an online gateway to academic and industry research on gender and gaming. The idea was to provide a centralized location for all of the existing and future research on gender and gaming. This new level of accessibility is expected to greatly assist both the academic community, as well as commercial game designers. The gateway was created by Michigan State University Professor Carrie Heeter and a team of Serious Game Design faculty, students, and consultants with funding from the National Science Foundation.
As of July, 2009, the investiGaming.com gateway included 410 research citations, 319 abstracts, and 271 full text links. All of the information on the website can also be found in the investigaming book.
Funded by the National Science Foundation
Carrie Heeter: PI
Brian Winn: Co-PI