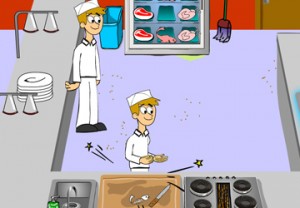 In Kitchen Disasters, you play the role of an aspiring restaurant manager trying to advance from a small sandwich shop up to a 5-star gourmet restaurant while dealing with several food safety challenges that stand in your path.
The goal of Kitchen Disasters is to educate and inform players about proper food handling, preparation, storage and disposal techniques as well as the importance of overall cleanliness in food safety. Players learn how to properly handle, store and prepare food and the necessary conditions to prevent problems such as spoiling, bacteria growth, cross contamination and pests. By demonstrating the importance of proper food safety the game also helps players develop a healthy attitude towards safe practices.
Learning takes place in the game through a constructivist approach. Players manage the restaurant and as food safety or management issues occur they have to address them. The way the player reacts to the situation will determine what happens in the game. If a food safety issue arises, the player will be shown the effects that the issue had on the restaurant. For example, if the trash does not get taken out flies will appear around the garbage can. The player learns to avoid the food safety issues by figuring out how to take care or prevent them in the future.
The game was prototyped in Brian Winn's TC832 class in Spring 2009. Development continued after the course in the GEL lab during Summer 2009. The game is currently in an unfinished proof-of-concept state (as it was an unfunded project).