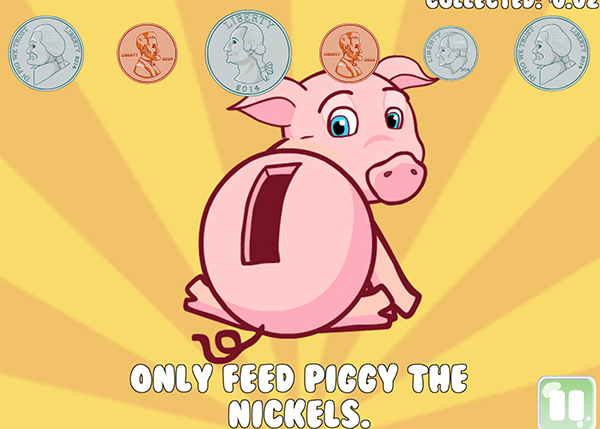 Give your child a jump start on their financial literacy! Saving with Piggy is an educational game that helps young children (age 2 to 5) learn about coins by feeding piggy (aka, putting coins in the piggy bank). The game features Piggy, a lovable animated piggy bank that needs help saving coins.
The game is 100% free-to-play (with no in-app purchases).
The game is developed by the Games for Entertainment and Learning (GEL) Lab at Michigan State University and supported by the Michigan State University Federal Credit Union.
How to Play:
Through four levels of play, your child can:
learn the visually appearance of pennies, nickels, dimes, and quarters.
learn the relative value of the coins (which is worth more or less).
learn the monetary value of each coin (i.e., a quarter is worth 25 cents).
learn the process of saving money.
Once your child masters the four levels of the game, challenge them to play the endless mode and save as much money as possible to help reinforce the concepts learned in the game.
Brian Winn: Producer
Justin Girard: Design, Programming
Peter Burroughs: Artist
Jackson Hopcroft: Artist
Tyler Summers: Audio